Navigating through the cacophony of bustling cities, or amidst the insistent hum of a crowded event, capturing pristine sound can be a daunting challenge. This comprehensive guide aims to demystify this journey, exploring the realm of microphones specifically designed for noisy environments. From broadcaster's favorites to versatile crowd-pleasers, this guide combines product reviews, hands-on experience, and professional insights to help the reader make an informed choice. Whether one is captured by the magic of music, swept away by the intensity of live events, or enthralled in the world of broadcasting, this guide serves as a compass to find the perfect microphone in the labyrinth of sound.
Sound recording in noisy environments can be a real challenge. The external noises can interfere with the quality of the audio, leading to a degraded output. These unnecessary sounds can come from traffic, crowds, equipment, or even weather conditions. Eliminating or reducing these sounds can be a daunting task that requires proper knowledge, skills, and above all, the right equipment.
The choice of microphone is crucial when dealing with noisy environments. Different mics have different characteristics – some are better at isolating the source of sound, while others excel at filtering out background noise. There are also mics that are designed for specific environments, like those with high wind or heavy machinery noises.
In a hurry? Here are our Top 3 Pics
Best Overall XLR Mic

Shure SM7B

The Shure SM7B shines with superior audio clarity, noise isolation, effortless usability, and exceptional versatility – a truly professional choice.

Best Overall USB Mic

Shure MV7

The Shure MV7, esteemed as the overall best USB microphone, delivers exceptional audio quality, versatile functionality, user-friendly controls, and a robust build, all in one package.

Best Budget USB Mic

Samson Q2U

The Samson Q2u stands as the leading budget-friendly USB microphone, offering superb audio quality, adaptability, and resilient construction for novice and experienced users alike.
Quick Overview of the Top 9 Microphones for Noisy Environments
In this section, we will provide a quick overview of the top nine mics that are popular among professionals for use in noisy environments. For each microphone, we will discuss its unique features, pros and cons, and its ability to perform in loud surroundings. These top-ranked microphones offer different features and options to cater to a variety of needs and preferences. Stay tuned as we jump into the details of each microphone, revealing what makes them the preferred choice for professionals across industries.
1. Shure SM7B – The industry standard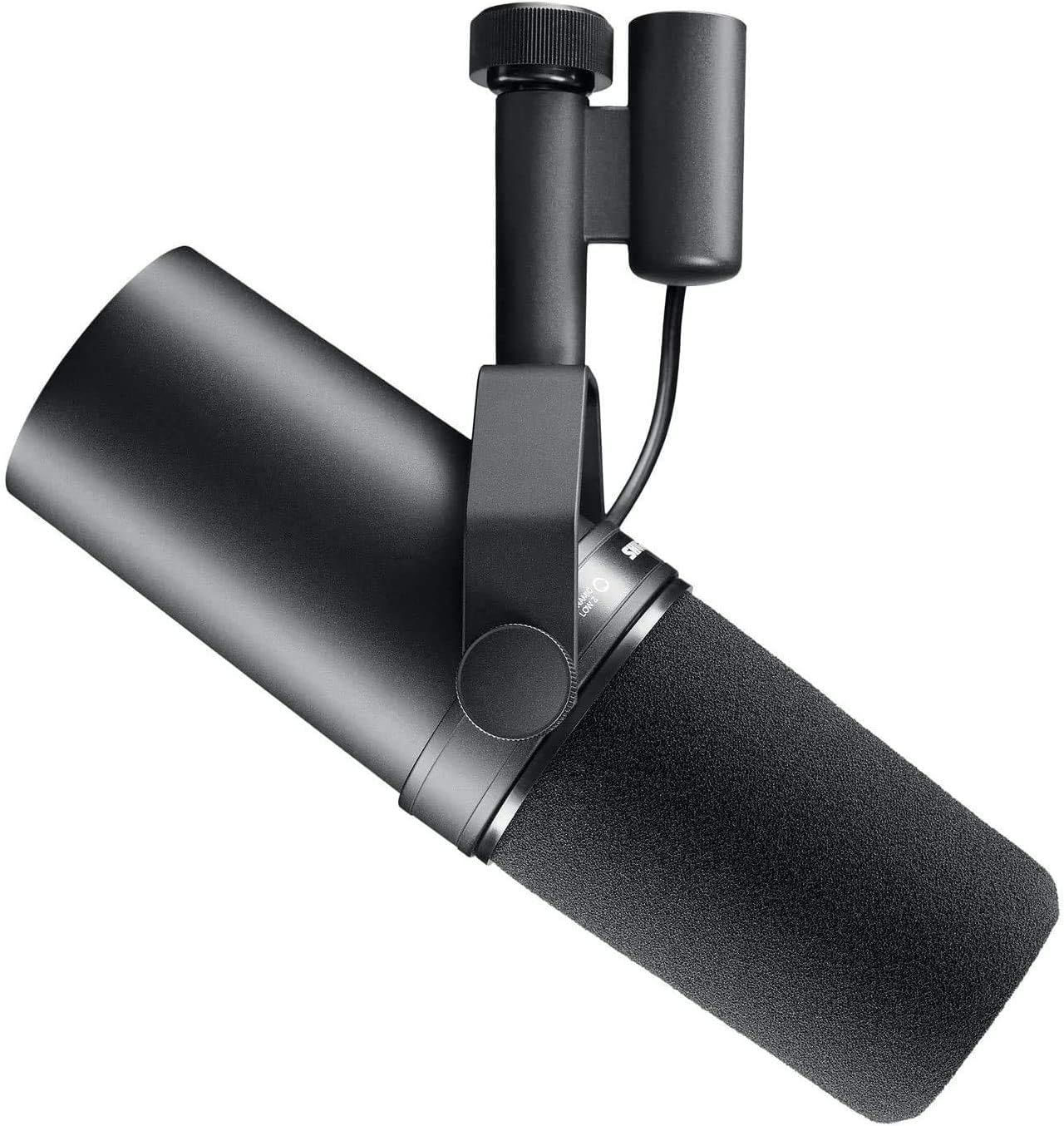 The Good
Excellent audio quality
Excellent Noise Rejection
Comes with a Pop filter
Versatility
The Bad
Requires an Audio Interface
When it comes to selecting the perfect mic for dealing with those pesky noisy environments, my go-to has always been the Shure SM7B. Look, I've tried a bunch of microphones throughout my career, but somehow, I always circle back to this one – it's the reliable old friend who never lets you down, you know?
Now, why is this unassuming piece of gear my top pick? Let's chat about that.
First off, this dynamic mic is a wizard at eliminating background noise. I've used it in all kinds of environments – bustling city centers, noisy production floors, wind-swept outdoor venues – and it's consistently delivered crystal clear sound. It's got this unique foam windscreen that's remarkably adept at filtering out unwanted interference. Even if you're recording next to a construction site, the Shure SM7B gives you clean, professional audio that's just about the speaker's voice.
Another thing that sets the Shure SM7B apart? It's a breeze to use. There's no need for any complicated setups or adjustments. Clip it on, plug it in, hit the record button, and voila! Beautiful audio at your fingertips.
The versatility of this mic is yet another of its strengths. Whether you're a podcaster, singer, radio jockey, or YouTuber, the SM7B has got you covered. Its dynamic range and flat, wide-range frequency response deliver clean and natural reproduction of both music and speech.
Perhaps the cherry on top is its price. For all that it's offering, the Shure SM7B is incredibly well-priced. Call it the best budget mic for noisy environments or a reliable workhorse; it's a fantastic investment for any audio-lover.
So if you're in need of a microphone that can cut through all that noise without making a dent in your wallet, I'd say your search ends with the Shure SM7B. Trust me, this little marvel won't disappoint!
2. Electro-Voice RE20

The Good
Great Sound Quality
Great Noise Rejection
Durability
Versatility
The Bad
Requires an Audio Interface
If the Shure SM7B is a reliable old friend, then the Electro-Voice RE20 is like a high-performing workhorse. This dynamic cardioid microphone has been a favorite in broadcasting for years, and for good reason. It's exceptionally good at rejecting background noise, making it a popular choice for radio stations and podcasters who need clear audio in noisy environments.
One standout feature of the Electro-Voice RE20 is its Variable-D design. This innovative design dramatically reduces the proximity effect, allowing users to move around the microphone without affecting the sound quality. It ensures consistent, uncolored audio capture, regardless of the sound source's positioning.
Talk about durability, and the RE20 takes the cake. It's a well-constructed, robust microphone that can withstand heavy-duty usage. It is known for its longevity and is often described as an investment that lasts for years.
However, the RE20 is not limited to speech and broadcasting. It performs outstandingly when capturing musical instruments or vocals, making it a versatile choice for content creators, musicians, or anyone in need of high-quality sound.
A potential downside of the RE20 is its size. The mic is quite bulky, which may make it less suitable for mobile operations or compact studios. Nevertheless, it's the performance that counts, and the Electro-Voice RE20 delivers in this regard.
3. Samson Q9U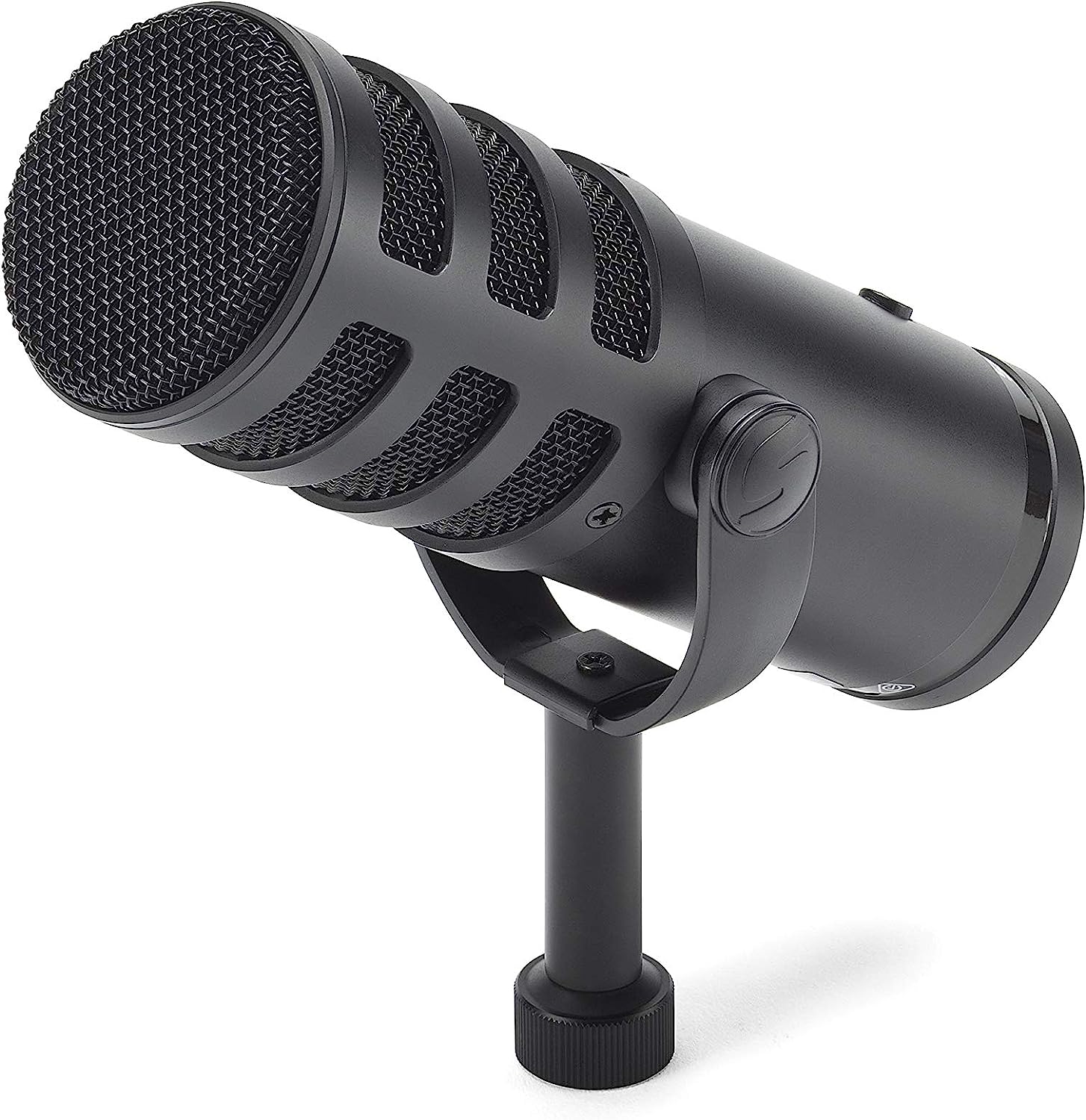 The Good
Great Sound
Dual Connectivity (USB/XLR)

Durable

Zero Latency Monitoring
Comes with a pop filter
The Bad
Bad Desktop noise rejection
Rounding off our top three is the Samson Q9U. This dynamic USB/XLR microphone has made waves in the audio industry for its excellent noise rejection capabilities. It's a great alternative for those who find the Shure SM7B or the Electro-Voice RE20 a little above their budget.
What sets the Samson Q9U apart is its dual connectivity option. If you're a beginner without a lot of equipment or someone who values mobility, the USB connection is a godsend. It allows for easy connection to your computer or laptop without the need for any audio interface. However, if you have an audio setup and prefer XLR, the Q9U has got that covered too.
Another highlight of the Q9U is its internal air-pneumatic shock mount. This helps to reduce handling noise and unwanted vibrations, ensuring a clear sound capture even in the noisiest environments. It's also equipped with a pop filter that targets plosive sounds, enhancing the overall clarity and quality of your audio recordings.
Despite being affordable, the Samson Q9U doesn't cut corners when it comes to build quality. The microphone sports a solid, all-metal construction that guarantees its longevity. Plus, it has an integrated yoke mount which makes it easy to install onto any microphone stand.
On the downside, the Q9U's onboard sound controls may not be as comprehensive as some users would like. Depending on your needs, you might have to invest in an additional audio interface. But for its price range, the Samson Q9U offers a fantastic bang for your buck – delivering professional-grade audio quality without breaking the bank.
4. Rode Procaster

The Good
Excellent background noise rejection

Internal Pop-Filter To Reduce Plosives

Internal Shock Mounting Of Capsule For Low Handling Noise
Durable
The Bad
Requires an Audio Interface
If the Samson Q9U is the budget-friendly option, the Rode Procaster is the middle ground — not too pricey, yet not compromising on the quality. This dynamic microphone has built an admirable reputation for its superior broadcast sound quality, making it a favorite amongst podcasters, streamers, and broadcasters.
One of the top features of the Rode Procaster is its tight polar pattern and tailored frequency response. These features ensure smooth and crisp sound reproduction, effectively minimizing any background noise. Whether it's a bustling street or a busy studio, the Procaster ensures that only your voice commands attention.
Moreover, the Procaster is incredibly durable. With its rugged, all-metal construction, this mic is built to last. It also boasts of an internal pop filter and shock mounting, which reduce interference from vibrations and harsh consonant sounds in speech.
The Rode Procaster also comes included with a sturdy mount bracket, making it easy to attach to a variety of mic stands. Plus, its sleek design adds a professional touch to any studio setup.
However, like the Samson Q9U, it lacks comprehensive onboard sound controls. You might need an external audio interface or mixer to get the most out of it. Nonetheless, for its price and the quality it offers, the Rode Procaster remains a value-for-money choice for those who want professional-grade audio without shelling out a fortune.
5. Shure MV7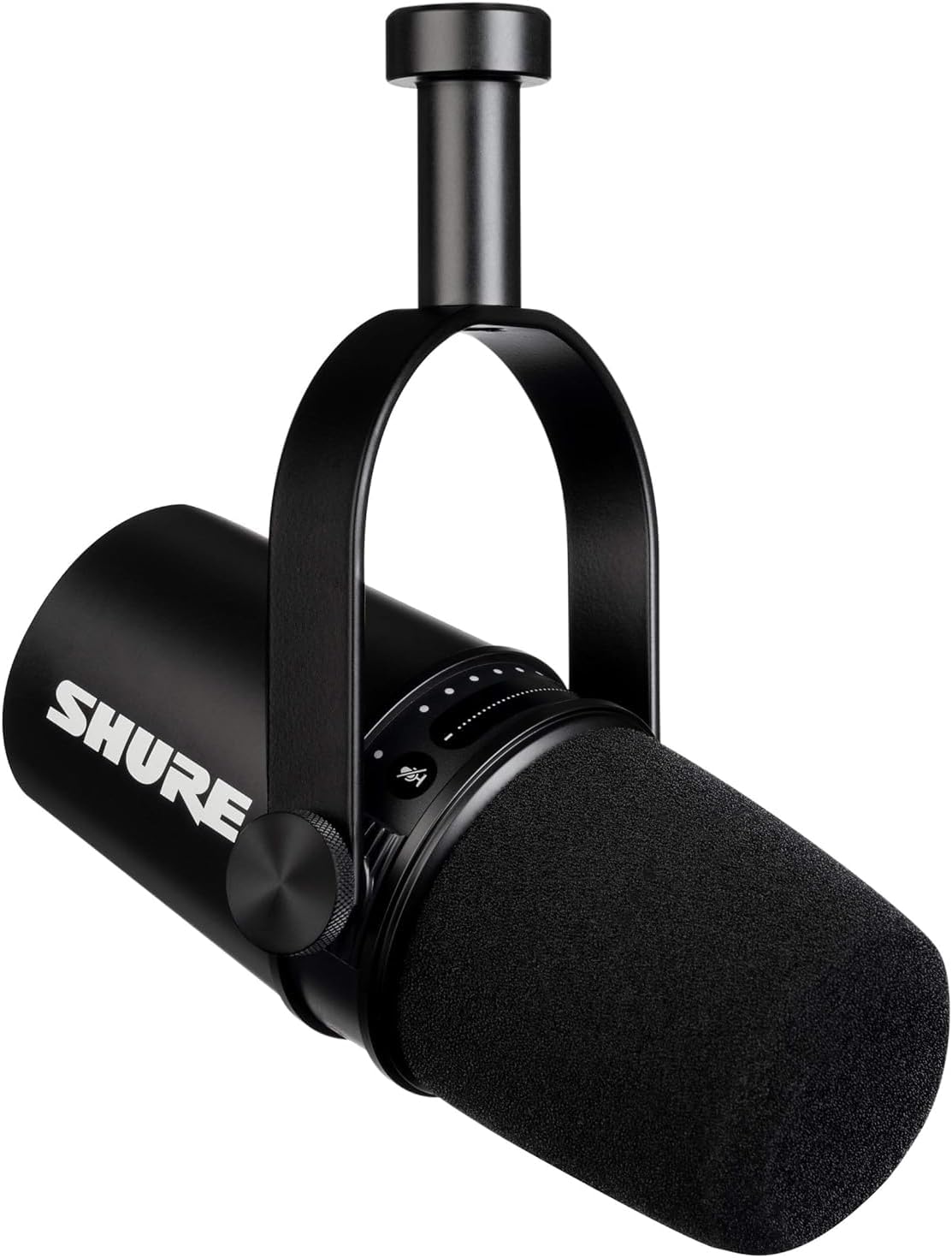 The Good
Great Audio Quality
Great Background Noise Rejection
Dual Connectivity (USB/XLR)
Zero Latency Monitoring
Touch panel for Gain, Mute, and Volume
Comes with a software
The Bad
Not very good plosives rejection
If you're a fan of Shure and are looking for a slightly cheaper alternative to the SM7B, the Shure MV7 is worth considering. This dynamic mic is one of the company's latest offerings and is specifically designed for podcasting, gaming, and other vocal applications.
The Shure MV7 features a dual USB/XLR output, providing flexibility for both beginners and professionals alike. You can use the USB connection for plug-and-play convenience or switch to the XLR connection for professional setups.
One significant advantage of the MV7 is its touch panel for controlling mic gain, headphone volume, monitor mix, and muting. It simplifies the process of adjusting settings, reducing the need for any extra equipment.
The Shure MV7 also offers auto-level mode when used with the ShurePlus MOTIV app. This function automatically adjusts the gain and compression settings to suit your voice and environment, leading to perfect sound every time.
But durability is where the MV7 really shines. Its rugged, all-metal construction ensures long-lasting performance, even in tough conditions.
However, despite these positives, some users have reported that the Shure MV7's USB functionality doesn't quite match the XLR's sound quality. But, given its price point and versatile features, the Shure MV7 remains a popular choice amongst those seeking a budget-friendly, professional-grade microphone.
6. Rode PodMic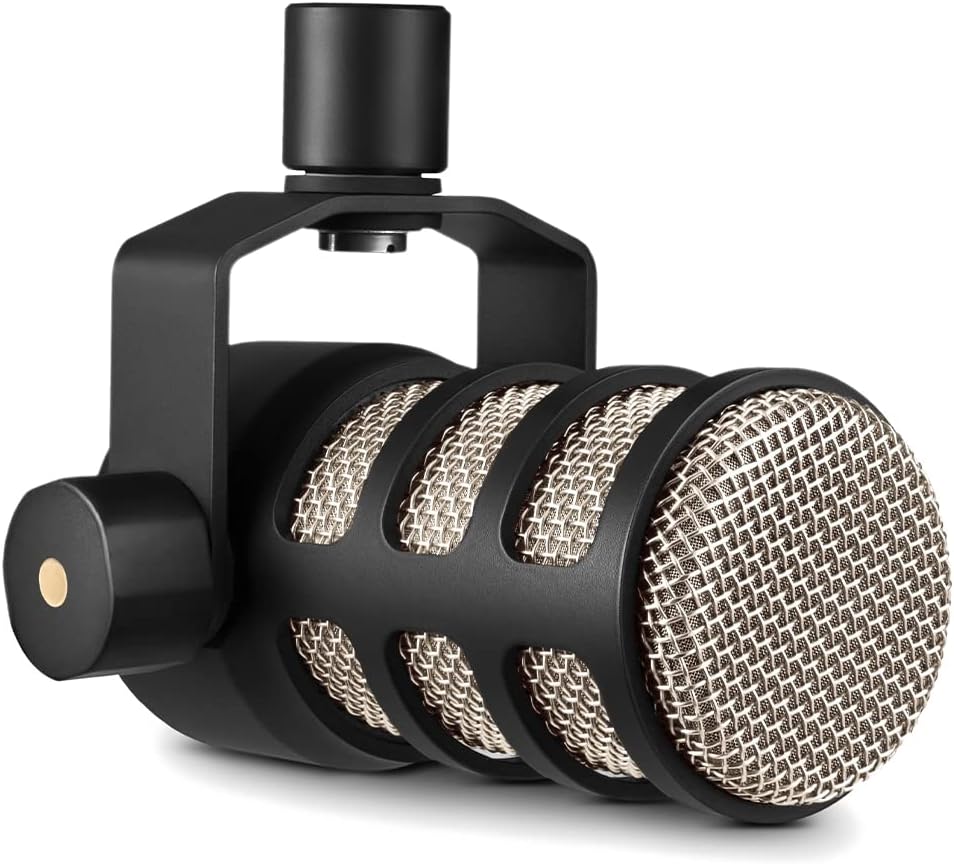 The Good
Effective background noise reduction

Dual-layer mesh screen to reduce breathy plosives

Durable & Robust
Comes with a software
The Bad
Requires an Audio Interface
Much like the other mics on this list, the Rode PodMic has a strong focus on broadcast-quality sound and is designed to capture speech with accuracy.
The Podmic boasts a cardioid polar pattern, which effectively isolates your voice from any background noise. It also includes a dual-layer mesh screen that's built to reduce breathy plosives from speech, giving your podcasts a professional touch.
One standout feature of the Podmic is its all-metal construction. Not only does this enhance its durability, but it also lends a professional aesthetic to your podcasting setup.
The Podmic is also compatible with most microphone stands, and its small form factor makes it a suitable choice for portable setups or smaller studio spaces. It also includes an integrated swing mount for easy attachment to boom arms or mic stands.
Despite its robust build, the Podmic is priced remarkably lower than similar broadcasting mics. This makes it a great addition for those working on a budget.
However, like other dynamic mics, the Podmic requires a bit of gain to achieve the optimal sound. Therefore, depending on your setup, you might need a separate audio interface or a cloudlifter for the best results.
Nevertheless, given its price-to-performance ratio, the Rode Podmic is a top contender for those seeking high-quality sound without a substantial monetary investment.
7. Audio Technica ATR2100-USB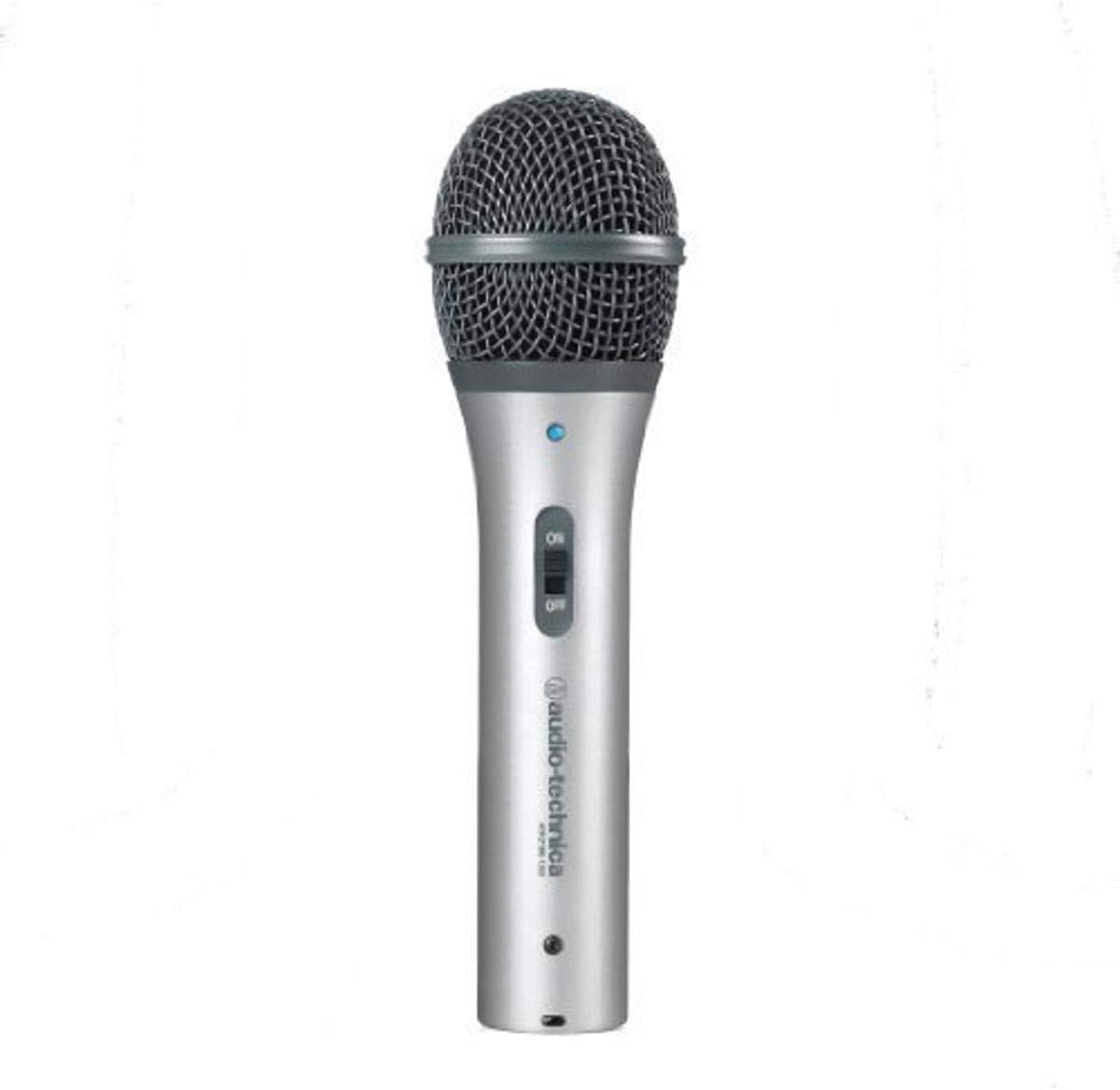 The Good
Dual Connectivity (USB/XLR)

Plug & Play

Zero Latency Monitoring
Very good audio quality
The Audio Technica ATR2100-USB is another affordable yet high-performing mic that deserves a spot on this list. This dynamic microphone is known for its versatility — it comes equipped with both USB and XLR outputs, making it suitable for both professional and beginner setups.
The ATR2100-USB features a cardioid polar pattern, which helps to reduce the pickup of unwanted sounds from the sides and rear, enhancing your voice's clarity. Its frequency response is tailored for clear, articulate speech, making it ideal for podcasting, home studio recordings, and field recordings.
The mic also has a built-in headphone jack that allows you to directly monitor your microphone output without noticeable delay. This feature ensures that your audio input is exactly as you expect it to be, allowing for real-time adjustments.
In terms of durability, the ATR2100-USB is made from a rugged, all-metal construction that withstands rough handling. It also comes with a tripod desk stand, perfect for studio use or on-the-go recording.
On the downside, some users have mentioned that the ATR2100-USB's USB connection might experience some static noise over time, though, this can be remedied easily with the XLR connection if you have an audio interface or mixer.
Despite this minor setback, the Audio Technica ATR2100-USB remains a well-priced and versatile choice for those who are just starting or those who need a reliable, go-to mic for multiple applications.
8. sE Electronics V7

The Good
Versatile
Great Audio Clarity
Great Background Noise Rejection

Great Feedback Rejection
The Bad
Requires an Audio Interface
The sE Electronics V7 is a handheld dynamic microphone known for its superior sound quality and robust construction. Especially designed for live performances, it's also a reliable choice for podcasting, broadcasting, and voice overs.
The V7 features a supercardioid polar pattern, which offers superior ambient noise rejection, effectively isolating your voice from any unwanted background noise. It's equipped with an internal windscreen that minimizes plosive sounds and wind noise, enhancing the overall audio quality.
One noteworthy aspect of the V7 is its durable zinc alloy construction, effectively guarding against drops or mishandling. Additionally, the all-metal housing and beveled spring steel grille provide a robust and stylish aesthetic that complements any professional setup.
The V7 is also equipped with an integrated shock mount to reduce handling noise for cleaner, undisturbed audio.
However, as this is predominantly a stage mic, the V7 does not include built-in USB capabilities, thereby necessitating an audio interface for digital recording. This is crucial to keep in mind for those who prefer a more straightforward, plug-and-play setup.
Despite this, if you're looking for a microphone with superb sound quality and rugged, stylish construction, the sE Electronics V7 is well worth considering. Its sound isolation and rejection of unwanted noise make it an outstanding choice for podcasters, broadcasters, and other vocal applications.
9. Samson Q2u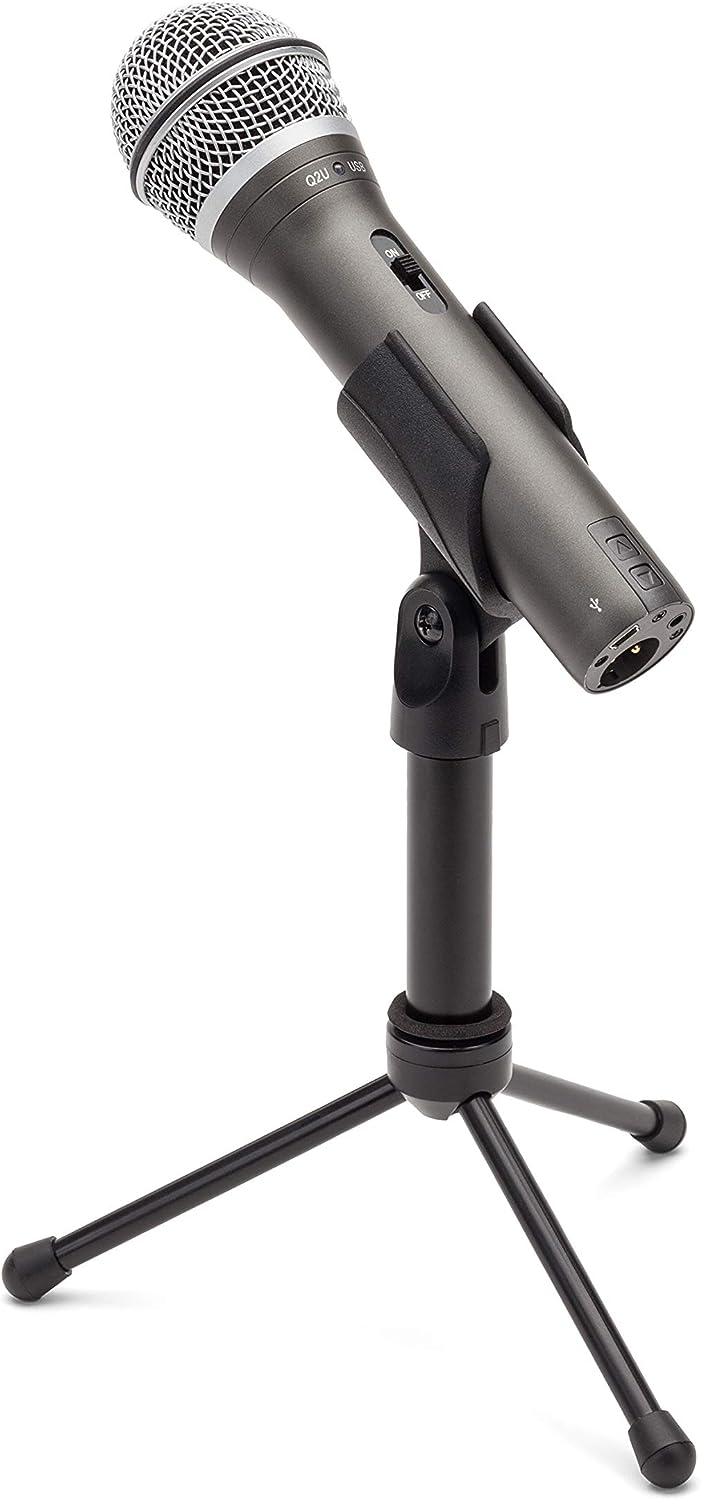 The Good
Dual Connectivity (USB/XLR)
Affordable

Solid

Plug & Play
Zero Latency Monitoring
Good Background Noise rejection
The Bad
Bad Plosives Rejection (Requires a pop filter)
Flimsy tripod
The Samson Q2u is a versatile and portable mic that stands out due to its dual XLR and USB outputs. This feature allows it to adapt to both professional and beginner podcasting setups with ease.
The Q2u offers a cardioid polar pattern, helping to isolate your voice from unwanted background sounds and enhance audio clarity. It also includes an inbuilt pop filter, which minimizes plosive sounds and grants your podcasts a smooth, professional sound.
This microphone's robust, all-metal construction ensures durability and longevity, even in challenging conditions. It also features an on/off switch, which can be useful during live broadcasts or performances.
One of the notable features of the Q2u is its onboard headphone jack. This allows for direct audio monitoring without any latency, ensuring that your recording sounds exactly as expected.
The Q2u also comes with a tripod desk stand and a foam windscreen, making it a complete and affordable package for podcasting beginners or mobile podcasters.
However, some users note that the provided tripod stand might not be sturdy enough, suggesting an upgrade might be necessary for long-term use. In addition, while this mic performs well with sufficient gain, it might require an audio interface or a preamp for optimal results.
Despite these considerations, the Samson Q2u's versatility and accessibility make it a strong choice for both novices and experienced podcasters, offering high-quality sound at an affordable price.
Buying Guide: How to Select the Best Microphone for Your Needs
When it comes to choosing the right microphone for your needs, there are several factors that must be considered:
Your Environment
An excellent mic in an untreated space is less likely to deliver good results compared to a decent mic in a well-treated space. Consider your recording environment and possible background noise before deciding on a microphone. Assess the acoustics of your space and think about whether you need a mic that can handle noisy environments or one that can suitably record in quiet, indoor settings.
For example, if you'll be recording in a noisy environment, a mic with good ambient noise rejection, such as a supercardioid or shotgun mic, maybe the best choice.
Additionally, if you'll be recording in a small or untreated space, consider a mic with a tight polar pattern to minimize room reflections. Alternatively, if you have a well-treated recording space, a microphone with a more open polar pattern may provide a more natural and spacious sound.
Recording Purpose
Different mics are better suited for different applications, so it's important to identify what you will be using the mic for. If you're recording vocals, a dynamic or condenser microphone might be ideal. On the other hand, if you're capturing ambient or field sounds, a shotgun or pencil microphone could suit your needs better.
Budget
Microphones come in a wide range of prices, with more expensive options generally offering higher sound quality and more features. However, there are plenty of affordable mics that deliver high-quality sound, especially if you're just starting out or on a tight budget.
Technical Specifications
When selecting a microphone, you should consider its polar patterns, frequency response, and sensitivity. The polar pattern of a microphone determines its directionality, or where it picks up sound from. The frequency response refers to the range of frequencies the mic can capture, which can impact the sound quality. Sensitivity refers to how well the microphone converts acoustic pressure into an electrical signal. Understanding these specifications can help you select a microphone that best suits your recording needs.
Remember, the perfect mic for you is one that fits your specific needs and situation. Whether it's for podcasting, broadcasting, live performances, or studio recordings, there is a microphone out there that will suit your needs. Always take into account the quality, durability, and functionality of the microphone before making a purchase.
Connectivity
Consider the connectivity options that a microphone offers. USB microphones offer plug-and-play convenience and are typically more user-friendly, making them a great choice for beginners. In contrast, XLR microphones require an audio interface but offer higher audio quality, making them preferred by professional users.
Read: USB Vs. XLR Microphones: What's the Difference?
Durability
If you plan to use your microphone in a portable set-up or in an environment where it might be subject to wear and tear, consider its durability. Robust, all-metal construction and shock-resistant features can ensure that your microphone withstands challenging conditions.
Additional Features
Some microphones come with additional features like built-in pop filters, headphone jacks for direct monitoring, or on/off switches. These features can add convenience and extra functionality, but remember that the core performance of the microphone should be your main consideration.
Lastly, reviews and user experiences can be incredibly helpful when selecting a microphone. They can provide you with real-world information about the microphone's performance and help you make an informed decision.
Minimizing Noise Without Investing in a New Microphone
In circumstances where investing in a new microphone isn't feasible, there are ways to reduce unwanted noise during your recordings. Utilizing noise-cancelling software can be an effective solution.
Using Software Solutions to Eliminate Noise
An excellent example of noise cancelling software is Krisp. This application uses advanced artificial intelligence to filter out background noise during your online calls or recordings. Krisp can be integrated with over 800 apps, providing significant flexibility. With just a click, you have the ability to mute all the background noise (like traffic, wind, chatter, etc.), enabling you to deliver a clean, professional audio output.
While Krisp works well for real-time calls and recordings, for post-recording noise reduction, editing software like Audacity, Adobe Audition, or GarageBand can also be useful. These programs often include features that allow you to dampen or remove unwanted background noise from your recordings.
Using these types of software doesn't require any specialized technical knowledge. They're often user-friendly and provide extensive online tutorials to guide you through the process.
Other Significant Noise Reduction Techniques
Alongside using noise-cancelling software, you can also take some simple steps to improve the acoustics of your recording environment:
Room Treatment: Basic acoustic treatments like foam panels can help to reduce echo and background noise.
Microphone Position: The closer your microphone is to the sound source (i.e., your mouth), the less background noise it will pick up.
Pop Filters: If your microphone doesn't have a built-in pop filter, investing in one can help to reduce plosive sounds.
Windshields: If you often record in windy outdoor environments, a windshield can help to reduce wind noise.
Remember, any measures that you can take to manage your recording environment will significantly improve the quality of your audio.
Wrap-up
Our comprehensive guide has explored the top nine mics for recording in noisy environments. Each of these models has its unique features, pros, and cons, but they all share one thing – they're dynamic microphones. This design is not a coincidence; dynamic microphones are known for their excellent noise isolation characteristics, making them ideal for recording in challenging environments.
From the reliable Shure SM7B to the affordable Samson Q2u, these mics have been tried, tested, and proven by professionals across industries. Investing in a good quality microphone can significantly ramp up your audio quality, making your content more engaging and professional.
That said, don't forget there's also value in using noise-canceling software and other noise-reduction techniques when a new microphone isn't within reach. Programs like Krisp, Audacity, or Adobe Audition, as well as basic measures like room treatments and the strategic positioning of your microphone, can work wonders in reducing unwanted noise.
However, the key lies in understanding your needs and picking a solution that works best for your specific situation – be it a new microphone, software, or room treatment. Remember, in the world of audio recording, every small improvement counts.
We hope that this guide has given you valuable insights and that you've found our advice helpful in your quest for high-quality sound amidst the challenges of noisy environments. Happy recording!