We've Got The Lowdown On The Best Cheap Microphone For Streaming!
You're probably aware of the fact that a good microphone is an essential tool for any live streamer. It's one of the most important equipment you need to have for your stream. But what makes a good microphone? And what are the best cheap microphones for streaming?
There are many things to consider when choosing the right microphone for your needs. From the quality of sound, to the portability and convenience, there are a lot of factors to take into account when deciding which microphone will be the best fit for you.
Best Cheap Microphone for Streaming
1. Elgato Wave:1
The Good
Mute Button
Good Audio Quality

Comes With Software

Great Software For Streaming
The Elgato Wave: 1 is an incredible microphone for streaming on YouTube and Twitch. The first reason why I'd like to mention that it is a high-quality microphone for the price.
This microphone offers a great deal at a very reasonable price. However, some people might have a bad experience with it because some users claim that its software has some bugs.
It comes with a desktop stand, Boom arm adapter, Quick start guide and USB-C cable for easy connection with your computer. The audio quality is really good and sounds very clear and crisp.
The software works perfectly with the Wave: 1. It's a simple program that makes it very easy to use the microphone. There is also a mute button that you can use if you want to mute your microphone before recording or when streaming.
Overall, if you are looking for a versatile and affordable USB condenser microphone then the Elgato Wave: 1 is the best choice for you.
2. Rode NT-USB-Mini
The Good
USB Plug & Play
Good Audio Quality

Flexible

Reputable Brand
The Bad
No Mute Button
A bit heavy
The Rode NT-USB-Mini is a good budget-friendly microphone for streaming and recording. It is a highly versatile microphone that will allow you to capture any type of audio.
This microphone has a built-in headphone amplifier and a USB connection. It also comes with a high-quality headphone jack that will provide a clear audio signal to the connected headphones. The NT-USB-Mini comes with a desk stand that allows you to place it on any flat surface.
It has a powerful microphone capsule that provides a crisp and clear audio signal for recording. It also has a built-in pop filter for filtering out unwanted noise.
Overall, the NT-USB-Mini is a reliable, versatile and easy-to-use microphone that will provide you with the best possible recording experience.
3. Razer Seiren Mini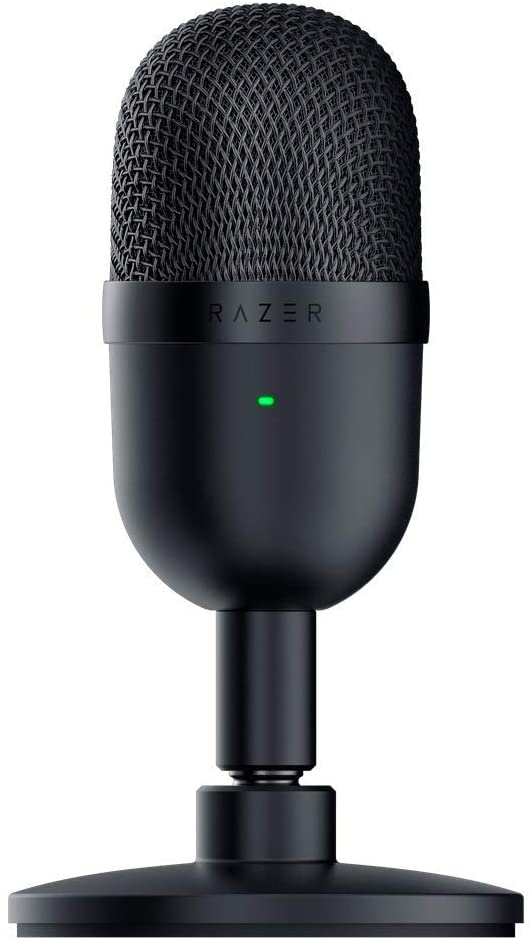 The Good
USB Plug & Play
Small and Adorable

Pc & PS4 Compatible

Great Deal
The Razer Seiren Mini USB Microphone is a portable, inexpensive microphone that can be used for recording, streaming, or voice chatting.
The small and cute microphone is equipped with a wide-angle condenser capsule that's tuned with a supercardioid pattern for capturing your voice with good quality and clarity.
In terms of performance, it provides excellent sound quality and a great deal for the money. It works really well for both PC and PS4 gaming and comes with a built-in cable for connecting to a computer.
The build quality of the mic is pretty good as well, and it has a sturdy tilt stand that makes it easy to move around your desk. The only thing that you might not like about the mic is that there is no mute button.
It's quite affordable with a reasonable price. However, if you're looking for a perfect mic that comes with a lot of features and controls, then this microphone might not be the right one for you.
4. Blue Yeti Nano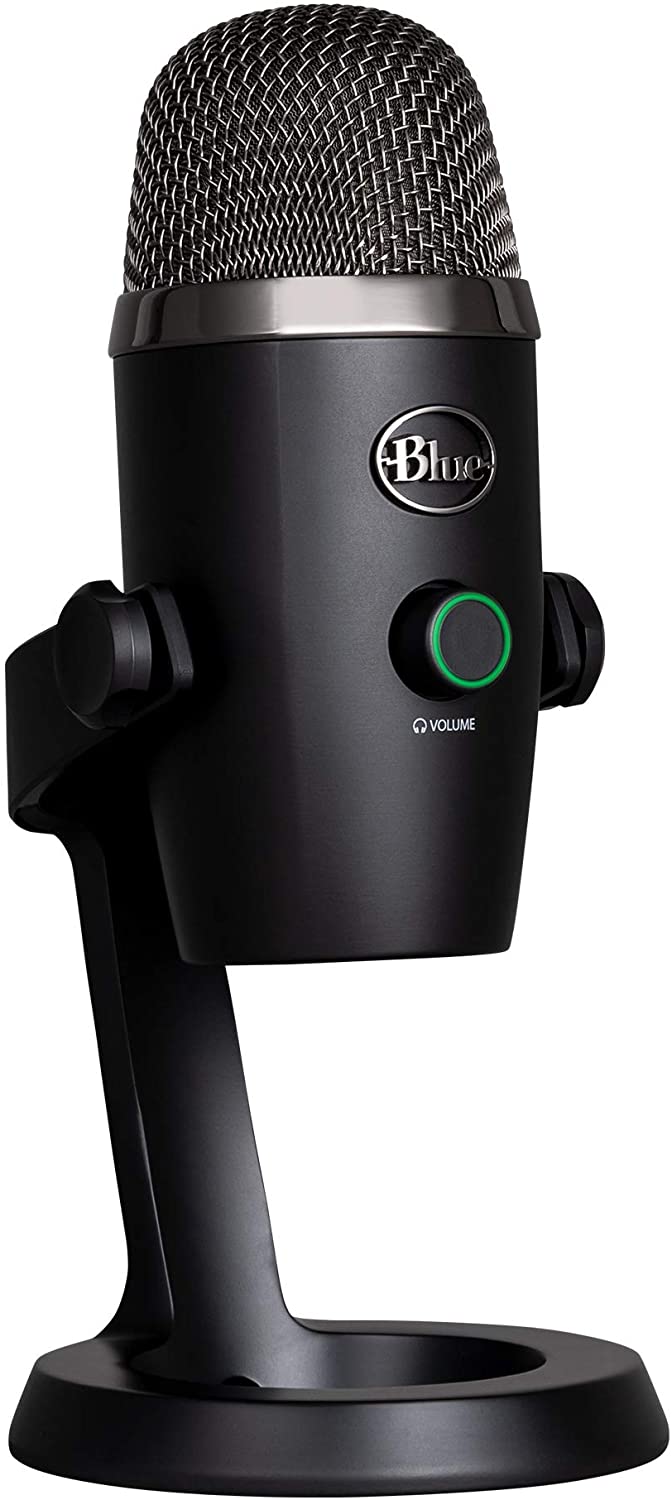 The Good
USB Plug & Play
Mute Button

Good Audio Quality

Good Build Quality
Comes With Software For Streaming
The Bad
The mute button is often hard to press
The Blue Yeti Nano is an affordable yet high-quality condenser microphone that will work great for those looking for a decent condenser microphone to use when streaming.
This microphone is great for use with any type of audio recording software, whether you are a professional musician, a podcaster, a blogger, a Twitch streamer, or even a Youtuber.
This microphone comes with Blue VO!CE software which allows you to edit your audio in real time. It features a cardioid pickup pattern for more precise results.
Overall, the Blue Yeti Nano USB Microphone is an excellent choice if you are looking for a reliable, inexpensive microphone. It is well worth the price for what you get.
5. Fifine K658 RGB
The Good
USB Plug & Play
Responsive Tap Mute Button

Good Audio Quality

Good Build Quality
Reduces Background Noise
The Fifine K658 RGB is a great budget gaming microphone that offers a decent combination of functionality and value.
It comes with a sturdy package that includes the microphone, shock mount, and a screw adapter. You need to remove the screws on the microphone and the screw adapter to connect the microphone to the computer.
The soft-touch mute button helps you instantly mute the mic without audible noises to your streaming or podcasting. Built-in LED indicator will tell you working status and has a good rainbow effect in the dark.
The microphone is powered through the usb port, so you don't need to worry about having to connect a separate power supply to it. It also has a headphone jack for monitoring.
You can switch on/off the RGB with the button on the back of the mic. This is pretty convenient if you have a big group of people in the chat room, since you don't have to worry about distracting them with the flashing lights.
Overall, this is a good microphone for streaming/gaming that you can buy if you're looking for something that is affordable, yet still high-quality.
6. Roccat Torch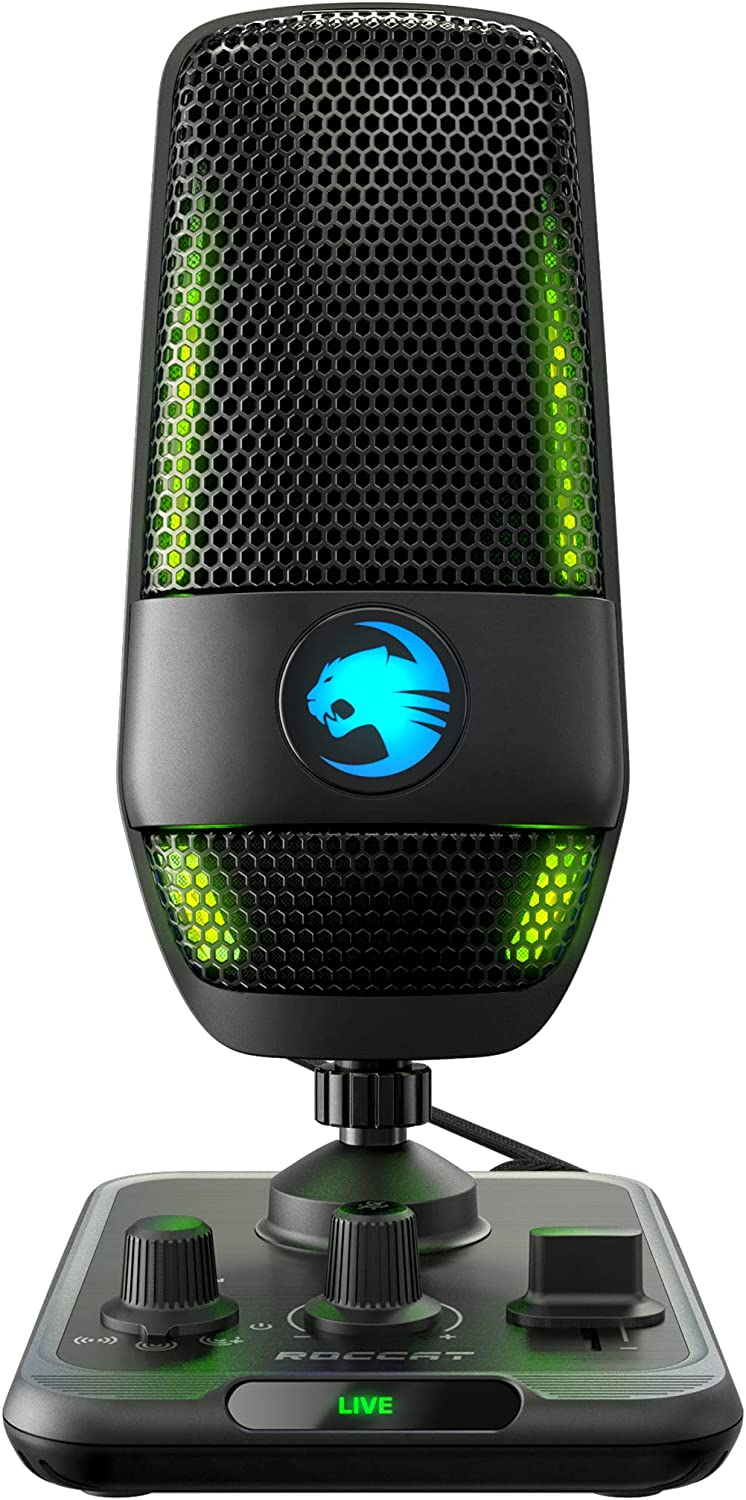 The Good
USB Plug & Play
Mute Button

Good Audio Quality

Reduces Background Noise
ROCCAT Torch is an excellent gaming/streaming microphone that will keep you comfortable while you're streaming. It has a lot of features, and a good-looking design.
It comes with a lot of useful features such as the easy-to-use mixer-style controls, three different pick-up patterns, and a reactive lighting system that changes colors when adjusting the gain. It also comes with a mute button plus a UNIQUE CONTACLTESS mute function. I'm not sure how could that be better than pushing the button, cool feature nevertheless. It's also boom arm compatible if you have one.
It is a very easy to use device, and the sound quality is very good. But, it doesn't come with software, which means that you'll need to use the Operating system (Windows/Mac) to adjust the settings.
Overall, Roccat Torch is a good budget-friendly microphone that you can consider if you want a great mic that you can use for your streaming.
7. HyperX QuadCast S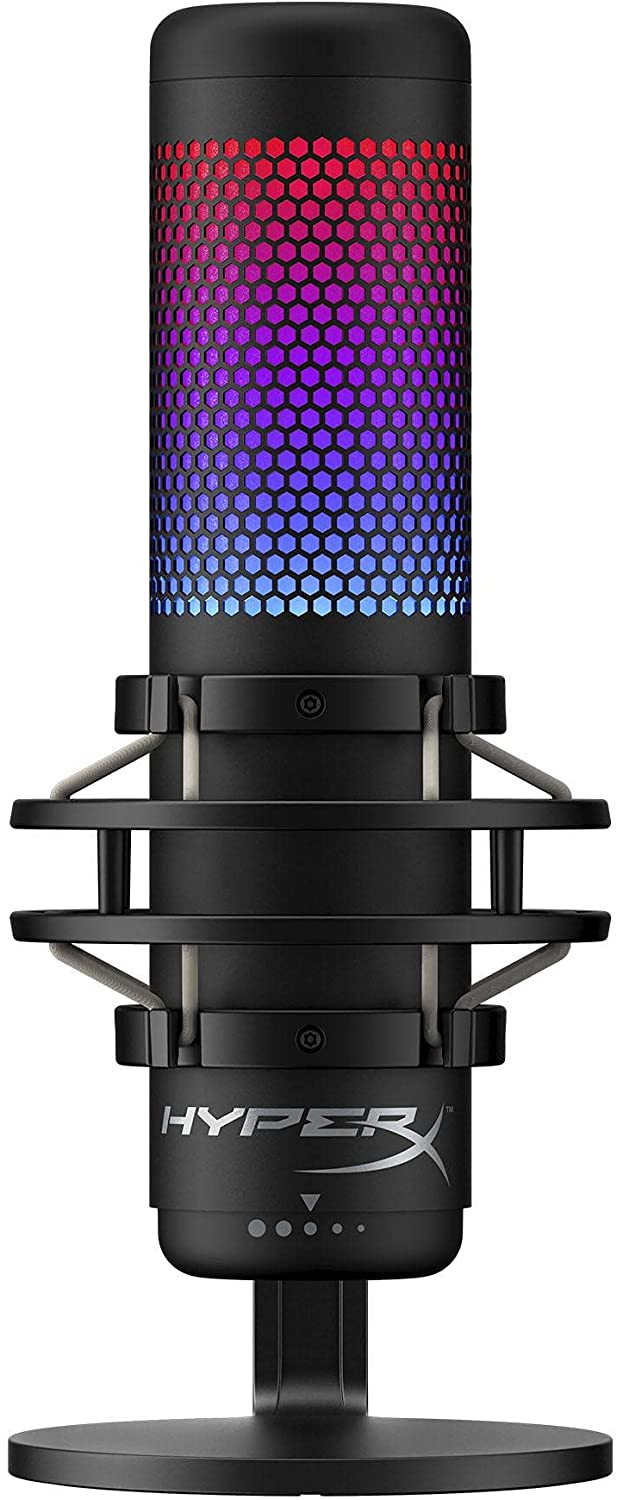 The Good
USB Plug & Play
Mute Button

Good Audio Quality

Reduces Background Noise
Controllable RGB
The Bad
The Mute Button is Matte, It gets easily smudged
This HyperX QuadCast is a USB condenser microphone that is ideal for both gamers and streamers. The microphone is a high-quality condenser microphone that's perfect for recording any type of audio.
This amazing gaming microphone is built with a powerful 40mm neodymium magnet, and has a removable and washable pop filter to help reduce the level of background noise. It comes with 4 polar patterns and it is optimized to work with popular programs like Discord, TeamSpeak, Streamlabs, etc.
The QuadCast S also comes with a shock mount that reduces the chance of accidental bumps while on the go. It's also very durable due to the included mounting hardware, and has a rubberized top cap for easy access.
You can easily customize the look of the QuadCast S with the included RGB lighting. There are 16.8 million colors available.
It's designed for gamers who want to make their gameplay as immersive as possible. This is the perfect microphone for the people that enjoy FPS games, MMO games, RTS games, etc.
The USB condenser is perfect for PC, PS4, PS5, and Mac. so it's really versatile. It's also very easy to set up and use, and the intuitive Ngenuity software makes it easy to get your broadcasting setup the way you want it.
Overall, if you're looking for a great condenser microphone for your streaming rig, then the HyperX QuadCast USB Condenser Streaming Microphone might be the best option for you.
8. Sudotack ST-800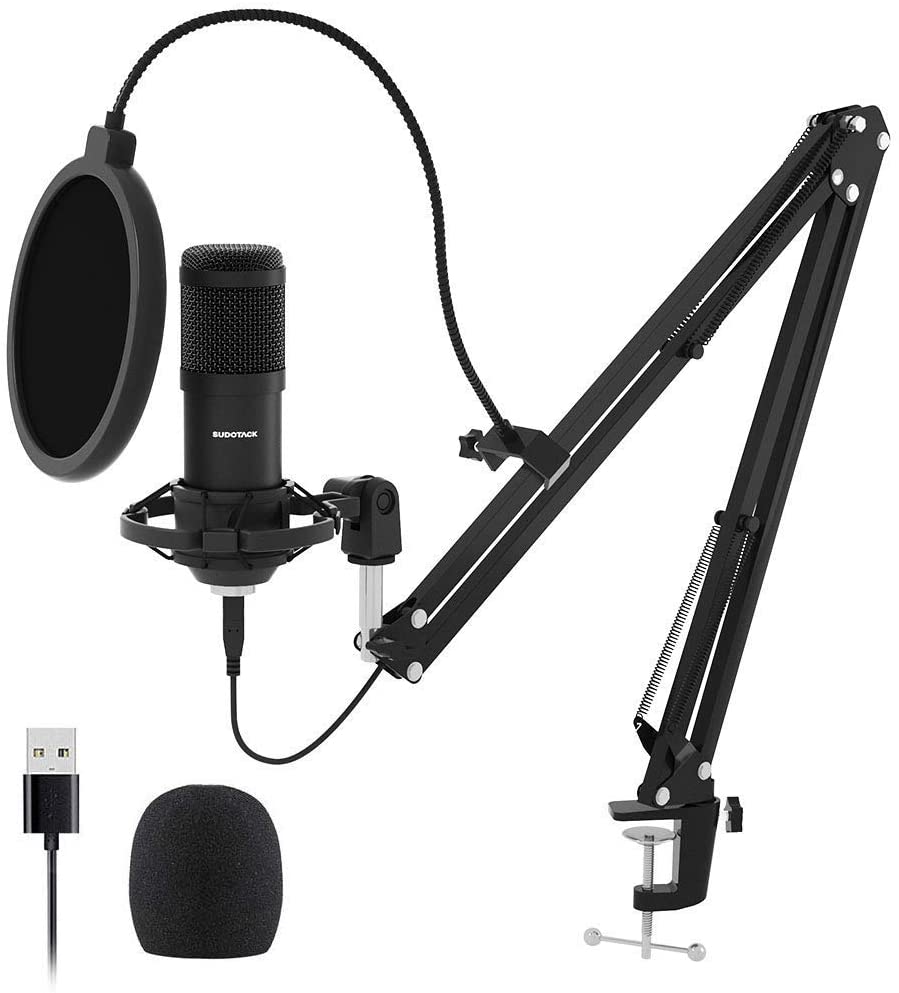 The Good
Great DEAL
Mute Button
Good Audio Quality

Comes With a Boom Arm & Pop Filter

Best Cheap Microphone Kit For Streaming
The Bad
A bit of high background noise
No Mute Button
The Sudotac ST-800 is one of the best cheap microphone kits under $50. It is a Great quality USB microphone and the best streaming microphone for those looking for the best microphone that won't break the bank.
The Sudotac ST-800 is a great studio quality microphone that can record very high quality audio at 24 bit/192 Khz bit rate. It has a cardioid pickup pattern that captures only sounds that are directly in front of the microphone, eliminating background noise and unwanted frequencies.
The microphone comes with an external shock mount that eliminates unwanted vibration and and a boom arm to hold the microphone for different recording situations.
This microphone has a USB plug and play feature that will automatically recognize your computer and allow you to start recording in just a few seconds.
It has a wind reduction cap that will eliminate unwanted wind noise. It also comes with a protective pop filter that protects the microphone from dust and other contaminants.
This is a hard to beat deal, You don't have to worry about spending hundreds of dollars of equipments, this microphone full kit has you covered, this is a completely plug & play device. Just plug the microphone in to your computer's USB port and you're ready to go.
Overall, the Sudotac ST-800 is an awesome USB microphone KIT that is perfect for those who want to start their own podcast or live streaming career.
In conclusion, there are several factors that you need to consider when choosing a microphone. These include the price, the sound quality, the microphone's sensitivity, and its noise-canceling capability. We have listed the top 8 best microphones under $100 that can help you improve your streaming experience.