Discover The Best Microphones For Audiobook Narration, Podcasting, And Voiceovers
The most important thing when it comes to audio narration is that it's done well. If you can make your listeners feel like you are in the room with them, they will be more engaged and listen to you more attentively. The best way to do this is to use a good microphone that will give you a clear, natural sound.
If you're looking for a microphone that is suitable for voiceover work, there are a few things you should consider before you buy one.
But before we get into that, here's what you need to know about audio narration.
What Is Audio Narration?
When you're recording a podcast or audiobook, you are narrating the audio content. In other words, you are the voice of the audio content.
As a narrator, you'll need to be able to read the script and deliver the content in a clear, natural, and consistent way.
Should You Go For USB Or XLR Microphone?
Microphones are one of the most important tools in your audio recording arsenal. There are a lot of different types of microphones, so it can be hard to decide which one to buy. The main thing you need to know is what kind of microphone you're going to use.
There are two main types of microphones: USB and XLR. USB microphones are very convenient because they plug directly into a computer and are extremely portable. On the other hand XLR microphones require a device called audio interface which connects the microphone to your computer. XLR Microphones are a little more expensive, but they give you a lot more flexibility when recording.
For Proper Explanation Read: USB Microphones vs. XLR Microphones
There are pros and cons to each type of microphone. If you're looking to make a quick recording, the USB microphone will work just fine. But if you want to make a professional quality recording, you may need to invest in an XLR microphone.
So, which one should you go for?
If you're new to the world of audio, or if you just want to make a quick recording, the USB microphone is the way to go.
If you're looking to make a professional quality recording, you'll need to invest in an XLR microphone.
USB Microphones: Top 3 Best Microphones For Narration Work Under $250
Let's Start with USB Mics.
Rode NT-USB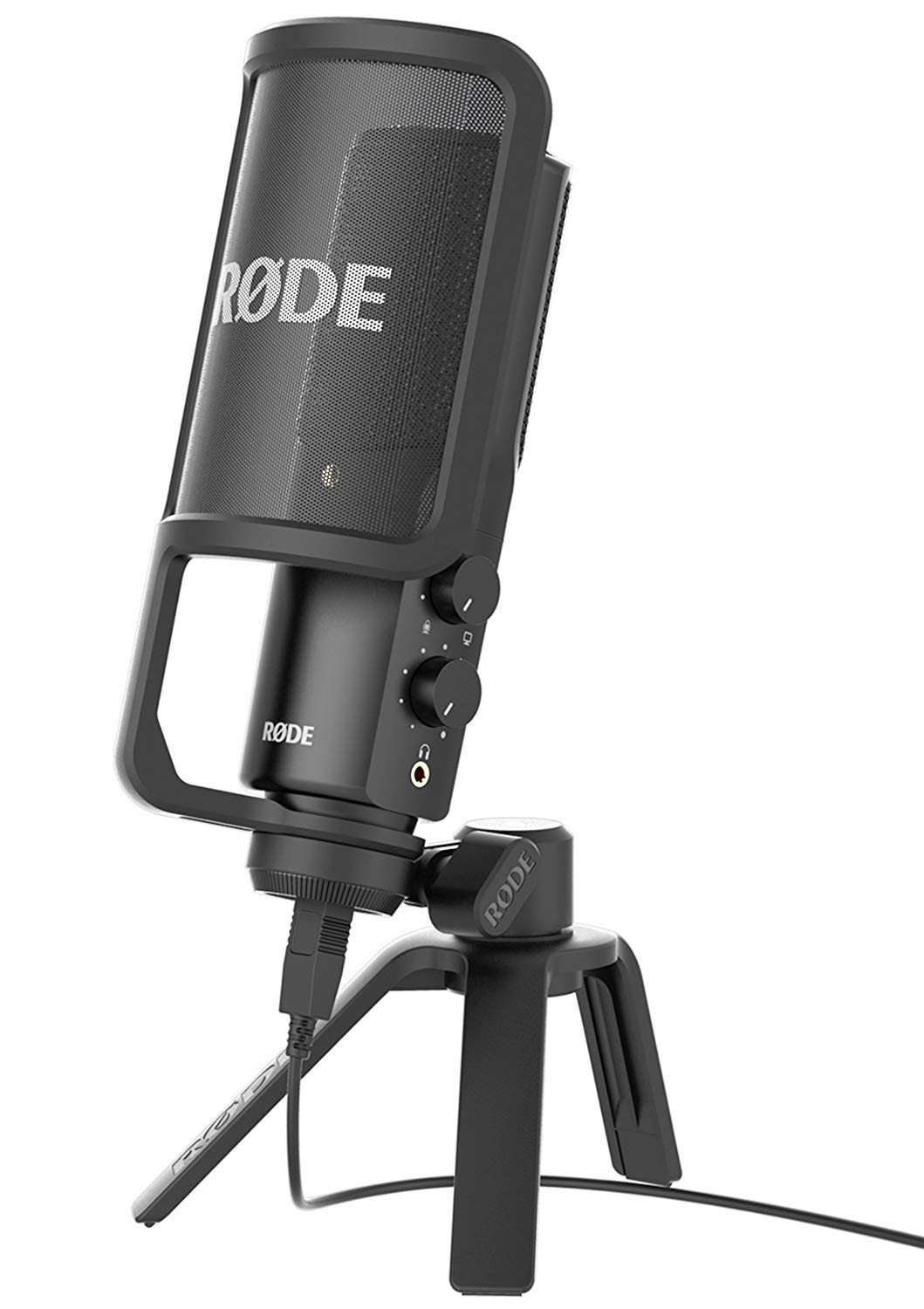 The Good
Portable
Clear Sound
Good Build Quality
Great Audio Quality
Compatible With iPad
Zero Latency Monitoring
The Rode NT-USB mic is a studio mic at its core, meaning it's great at capturing your voice, as long as you're wearing the proper vocal cords. While it may not be a good choice for gamers, if you're looking for a really great studio mic at an affordable price, the Rode NT-USB is a pretty solid choice.
The mic has a rugged, portable design, along with three built-in spikes on the bottom that allow you to rest the mic on your desk or countertop without worrying about ruining your desk or your microphone. It comes with a USB cable, a pop shield, a storage case, a desk stand, a 6m USB cable, and a headphone 3.5mm stereo jack.
The quality of the mic is great, with a very clear and wide frequency response of 20-20000Hz, although you have to keep an ear out for the low freq's of below 100Hz, where everything gets a little bit fuzzy.
As far as the mic's usefulness, the controls are exactly what you'd expect. They're easy to use and offer zero latency monitoring. You get direct mixing between the mic and your input or source, making it super easy to control your mics in a live stream.
The NT-USB condenser microphone, on the contrary, has a very small soundproof compartment, which makes it impossible to use in an office. It requires a little bit of setup time with the included 6m cable if you're using the Rode adapter, due to the connector of the NT-USB being a little odd.
If you have an office where a microphone or headphone with a USB cable is going to be fine, the Rode NT-USB might be a good choice depending on your needs.
Shure MV7 USB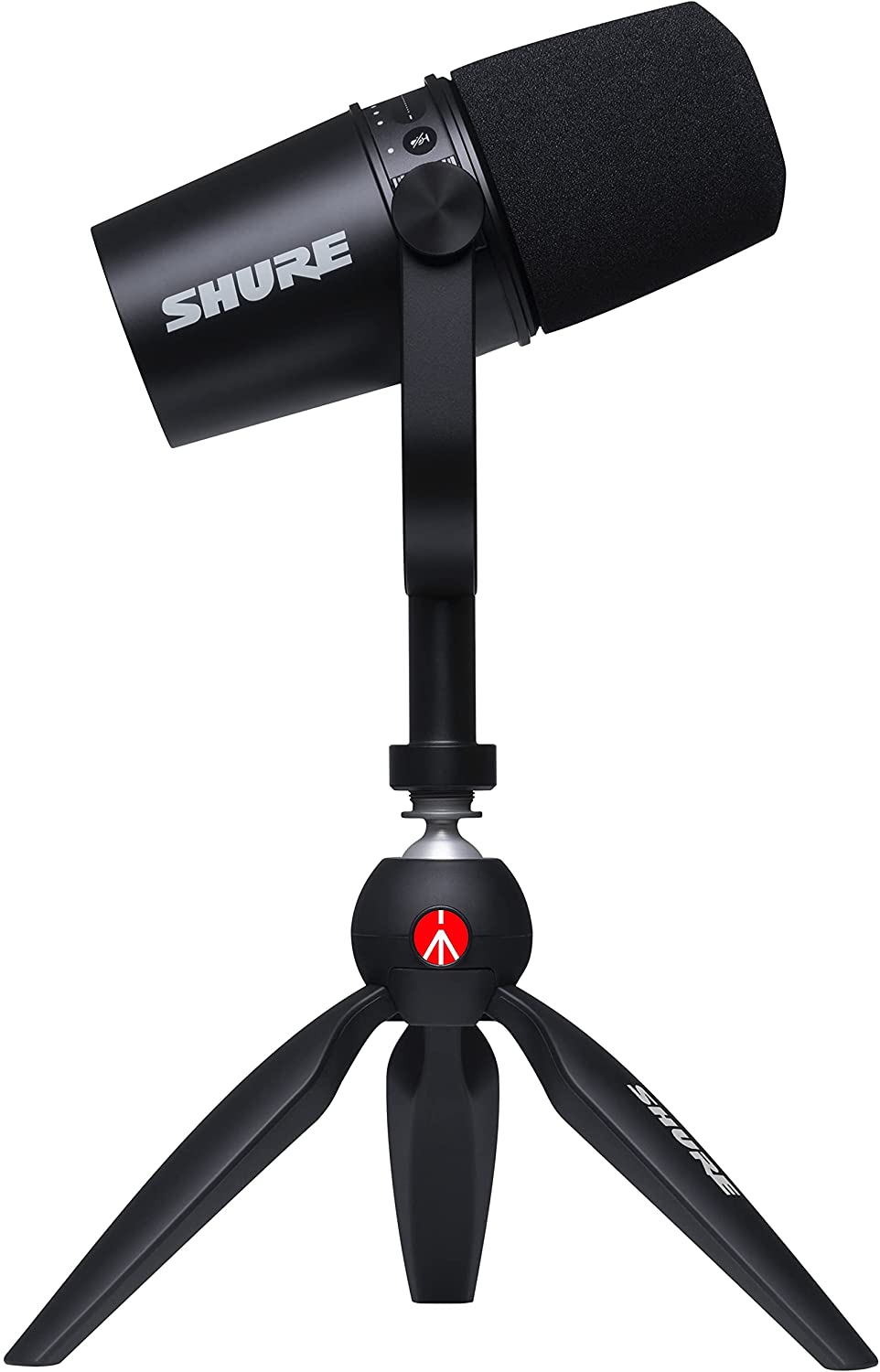 The Good
Portable
Mute Button
Solid Build Quality
Great Audio Quality
Comes With a Software
Zero Latency Monitoring
XLR/USB Connection Ports
Great Background Noise Rejection
The Bad
 Not a very good Plosives Rejection
Picks Up Desk Bumps
Requires 100% Gain To Sound Good Enough
Shure's answer to the ubiquitous Rode NT USB, the MV7 is an excellent microphone for both podcasters and streamers needing a portable solution.
The microphone is super simple to setup. Just connect the two USB ports using the included cables. Then you're set to record. The microphone includes a USB hub and an AUX input to connect to an audio system, but I would recommend purchasing an extra-long USB-A cable to connect to a laptop using a different port.
The built-in mute button is a nice touch. I didn't want to have to go through the hassle of adding a switch or a mechanical mute button to my desk, but it made recording much simpler. While the default microphone volume works with any mic gain, I'd recommend turning your volume down a bit to a setting where the volume is almost at 100% on your computer.
The solid all-metal build is another quality touch. While the Yeti's plastic finish is comfortable in my hand, it can get slippery in my pocket at low temperatures. This didn't cause any problems for me.
The MV7 is a truly great microphone for streamers and podcasters, but it didn't always sound great at lower volume. I found it to work better with higher gains or in low-noise environments. Even at 100%, it didn't sound quite as crisp as something like the UE Roll S. However, the MV7 is a fantastic portable solution. It also has the added benefit of being a truly affordable microphone. The only drawback I found was that my desk didn't have 5/8″ threads. While the size of this microphone is on the smaller side, it's a little less portable than the UE Roll S.
It also has both XLR & USB outputs, which means you can upgrade from usb as soon as you get your hands on an audio interface for superior quality.
If you're looking to get a microphone for your podcast or streamer, the Shure MV7 USB is an excellent option.
Audio-Technica AT-2020 USB+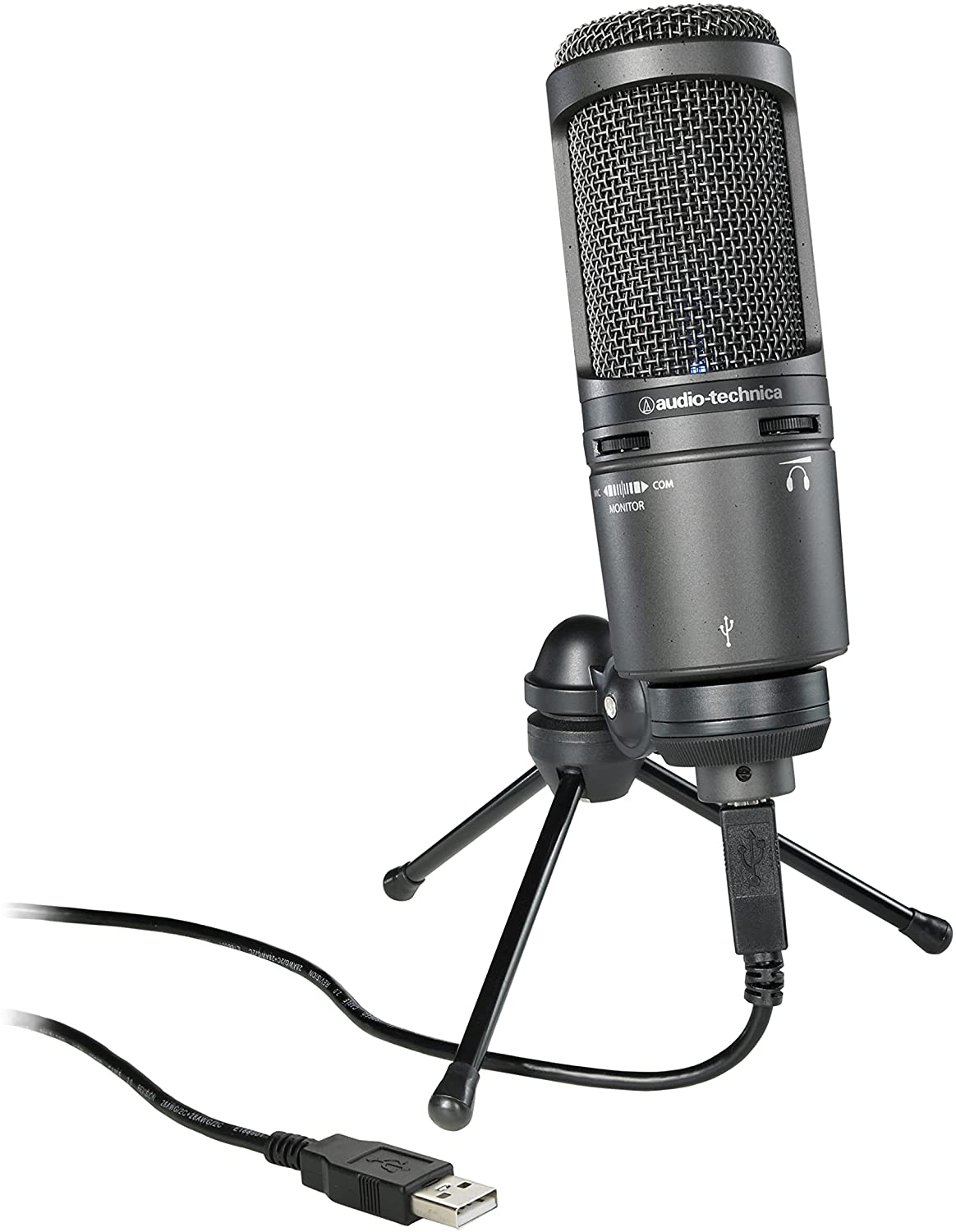 The Good
Portable
Clear Sound
Good Build Quality
Great Audio Quality
Zero Latency Monitoring
The Bad
Cheap Plastic Tripod
Not Compatible with iOS
Audio-Technica isn't the most well-known name in audio, but they are one of the biggest names in the audio industry. For streamers, especially those who are looking for something inexpensive to use, Audio-Technica's USB microphone can't be beat.
The AT2020 delivers premium sound quality at an affordable price. It's a condenser mic that has a built-in headphone amplifier and volume control. To be fair, the AT2020 isn't the most attractive looking microphone, but the sound quality is pretty darn impressive.
The only downside is the AT2020. The tripod is flimsy and has a cheap plastic design, which is evident when you hold the AT2020 away from you. The tripod also seems like it might not stay on the table in the same place all the time while you're recording, something I personally didn't test. You're better off looking into an alternate desk arm to hold this microphone.
Despite the sound quality and good build quality, the microphone is not compatible with iOS devices.
XLR Microphones: Top 3 Best Microphone For Narration Work Under $250
TZ Stellar X2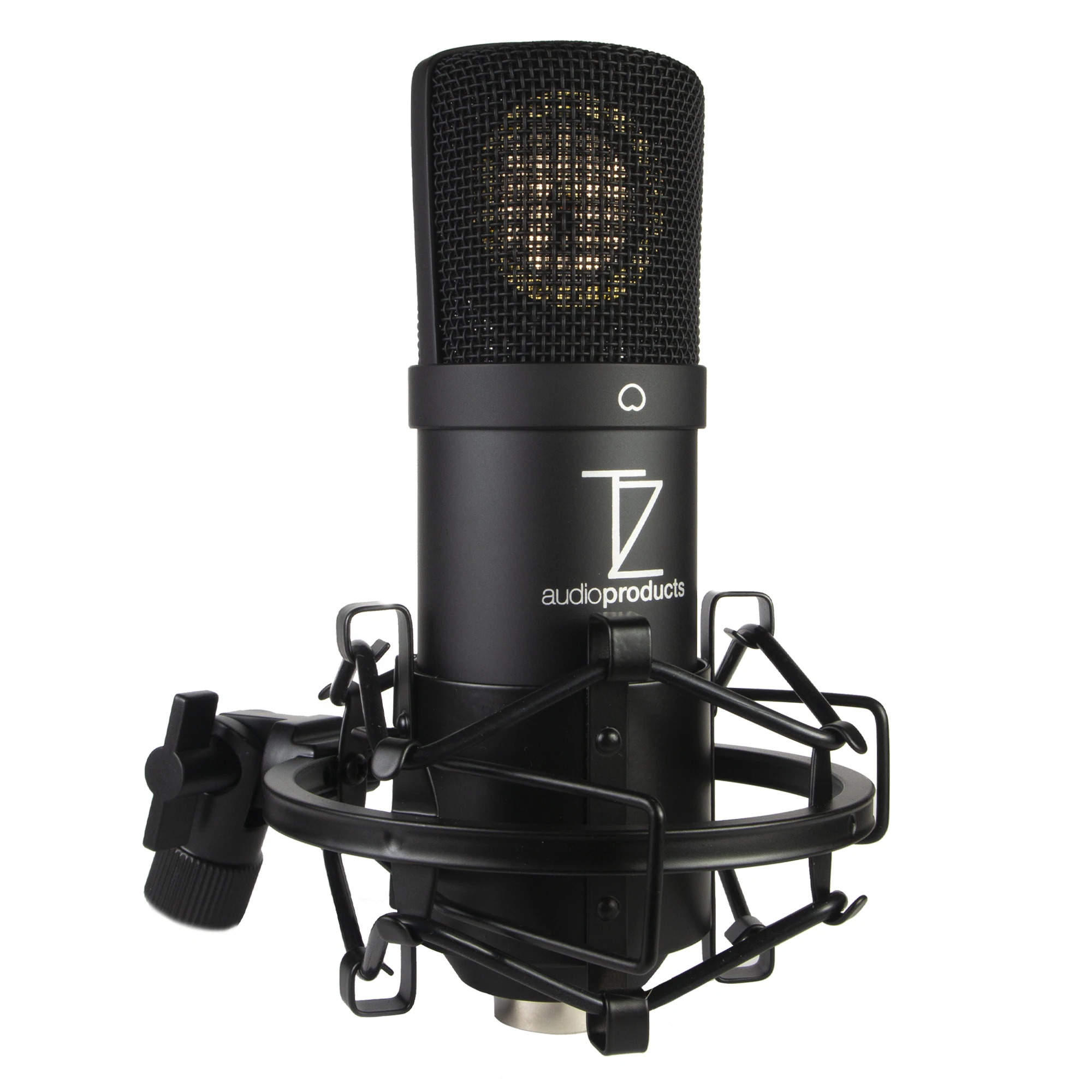 The Good
Good Build Quality
Great Audio Quality
Clear, Natural Warm Tone
Super Low Self Noise
The Bad
Requires an Audio Interface (XLR Output)
The TZ Stellar X2 is a budget condenser microphone that's surprisingly high quality for such an inexpensive option if you're looking for something to add to a video game commentary stream.
The TZ Stellar X2 sports a sound similar to a typical cardioid microphone, making it great for recording gaming commentary or simply talking on the mic in a casual manner. It feels strong, and the grills cover the microphone well enough to keep it safe and sound with the metal body while also being attractive.
Though it's a cheap microphone, it's built really well. At this price range, the Stellar X2 is a steal considering it has all the bells and whistles you would expect from an expensive microphone. You can record without worrying about background noise, and your audio quality is stellar.
All of that said, like I've said, if you want a good voice actor microphone for recording vocals to podcasts, this is a great one!
LEWITT LCT 240 PRO

The Good
Very Affordable
Good Build Quality
Great Audio Quality
Very Detailed And Clear Sound
The Bad
A bit high Self Noise
Requires an Audio Interface
The LCT 240 PRO microphone sounds great, but that isn't all it's good for. Its cardioid polar pattern will give you crystal clear vocals when needed on a podcast or stream. In fact, this is perfect for a voice actor looking to get their work out.
This microphone works really well for any form of acoustically-based recording. It also sounds great on an acoustic guitar playing in the background of a stream, giving your listeners a full sound that helps them really picture the action.
Most of my microphone woes have been due to my bad placement or the weird sound the microphone picks up from my mic stands. With the 240 PRO, I can always tell by the difference when my mic is not in the right spot and what angle I'm holding the mic at because the self-noise is so low. If you listen closely, you may also catch me trying to hold it a little farther from me for added stability. The capsule and grill look great together, so it also helps me stay looking nice.
Rode NT1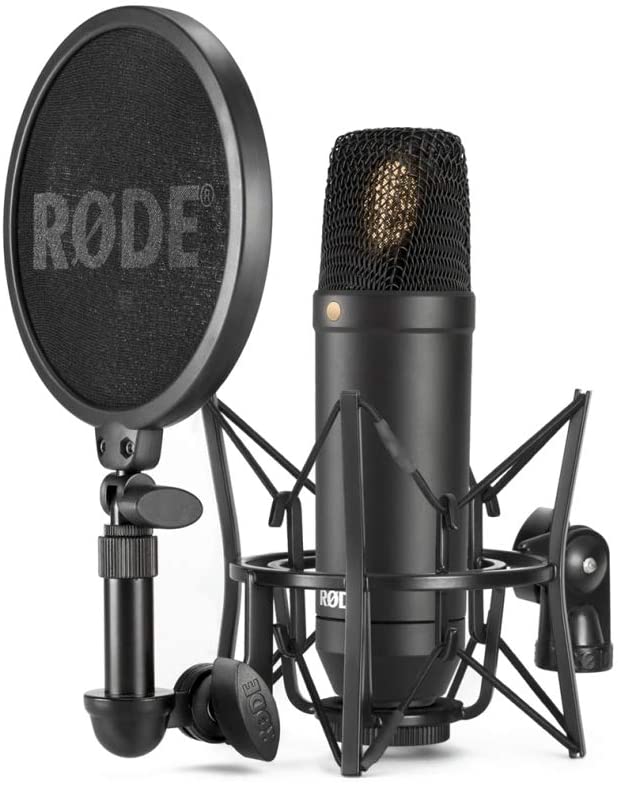 The Good
Solid Build Quality

Great Audio Quality
Clean And Neutral Sound
Super Low Self Noise
Great Background Noise Rejection
The Bad
Requires an Audio Interface
RØDE's NT1 is a beastly 1′ condenser that offers premium performance and excellent sound quality. It's a microphone I'd recommend to any audio enthusiast.
The NT1 has a 1′-6.5″ cardioid polar pattern, and its low noise level (only 4.5 dBA) allows you to hear the voice of a streamer without being drowned out by background noise. Since it's extremely silent, you only need an audio interface if your computer doesn't have a built-in microphone.
The NT1 boasts 'world's most accurate' circuitry, and includes 'dual capsule technology' for a rich yet smooth sound that's true to life. It has an amazing sound stage, and the NT1 is made up of five elements.
It's a 1′ condenser, it uses an electret capsule, so it's super sensitive to its environment, plus the mic is a 1′ cardioid polar pattern. Then the NT1 employs dual capsule technology for 'high-efficiency preamplification' for best sound reproduction and low-noise levels. The capsule has 'an extremely tight frequency response curve' which provides 'a very clean sound stage' and 'accurate and clean' high frequencies that have 'the sound of a trumpet playing in a large venue'.
It also has 'low-distortion' circuitry, so 'you won't need to use a limiter to prevent clipping' like many other mics require. The NT1's 'slight high-pass filter' also allows you to hear everything from voices all the way up to 'loud sounds, loud environments, and heavy background music', and is 'designed to bring about a wide dynamic range of sound for your music collection and daily conversations'.
The NT1 also has a built-in pop filter, so you don't have to worry about your poor boom arm and a poor pop shield being the things ruining all of your work.
One of the best things about the NT1 is the way it captures audio. It sounds incredibly clean and neutral, which is exactly what you want for voice over and narration work. If you're just starting out in the narration business, this is the perfect mic for you, especially for audiobook narration. You want your microphone noise as low as possible, and this mic is really good at that.
Final Thoughts
As you can see, there are a lot of great microphones out there that can be used for narration work. It really depends on your budget and what you're looking for in a microphone. The best microphone for narration is the one that you feel most comfortable with... Whichever microphone you choose, make sure to test it out and see how it sounds with your voice before you make a final decision.